http://pdf.infodog.com/prm/5611/prm5611.pdf
Entries close for the C&P Specialty on April, 3. The show is April 19th in Timonium MD followed by two supported entries. We hope to see all of you there! There will be a club meeting, educational seminar and a raffle.
July 29, 2017     Swiss Embassy, Washington DC–Swiss National Day
Once again, the C & P Greater Swiss Dog Club had been invited to celebrate Swiss National Day at the beautiful Swiss Embassy. Gates open at 4 pm on Saturday, July 29th but we will plan to arrive a bit earlier. The festivities run until 8:30 pm but you can leave any time you want. Attendees will receive two free human tickets (dogs free) which includes dinner.
If you would like to attend with a dog, please email Megan Westenmeyer your name and dog(s) names–a list of our attendee's names will be at the entrance gate.  Stephen Hewitt will be handling the coordination.  Safe and happy carting dogs are always a huge hit!
September 7     Pups in the Park–Nationals vs Phillies, Washington DC
September 30  Pups in the Park–Nationals vs Pirates, Washington DC
Game time is 7:05 PM. Tickets are $10 for dogs and $30 for humans.  Ticket information: http://m.mlb.com/nationals/tickets/info/special-ticket-pups-park Contact Jason Christy, C & P Pups in the Park organizer: michaeljasonchristy@gmail.com
September 29 & 30     October 1 C & P Swissy Supported Entry and Specialty
September 30   C & P Weight Pull at our Specialty, see below for details
Events Schedule 2017 to download the .pdf version of the schedule.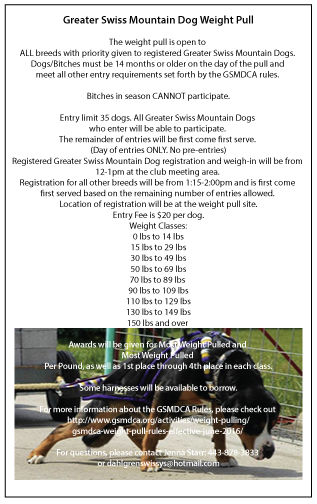 Weight pull information. This event will be on the grounds of the Specialty.

November 10-12    Draft Trial–Mt. Airy, Maryland
Premium List available soon.