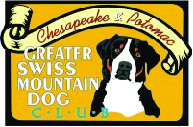 The Chesapeake and Potomac Greater Swiss Mountain Dog Club was established in 2007 and is a proud member of our parent club, The Greater Swiss Mountain Dog Club of America. Our members are primarily from the Maryland, Washington, D.C., and Virginia area. We are a vibrant and active club sponsoring several events every year. Please check our events page frequently to see what our members and friends are doing with their Swissys.
It's time to renew your membership! Please go to our membership page for details and forms.
We have a Spring Hike planned! Go to our EVENTS page.
HOT OFF THE [virtual] Press! Our Current Newsletter, V2015 Issue 1 is now out!
Our current Board of Directors are:
Megan Fletcher – President
Jenna Starr – Vice President
Mary Jo Rasmussen -Secretary
Michelle Charters -Treasurer
Stephen Hewitt – Director
Phyllis Walker – Director
Nancy Kechner – Director
Cathy Cooper – Director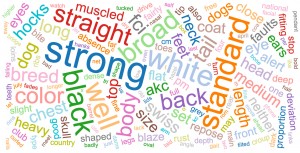 The Swissy Breed Standard in a Word Cloud